Uploading Images (PNG/JPEG)
There are two ways in which you can upload an image.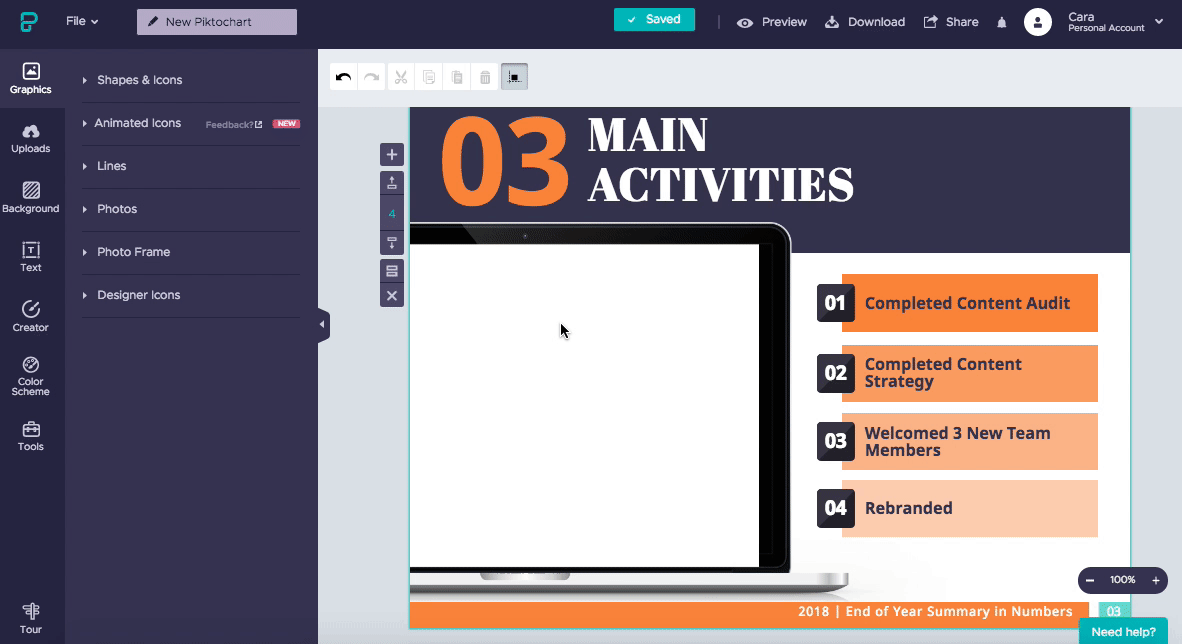 1. Drag and drop
Click the "Upload" icon (on the left panel) to open up your uploads library. There's an area at the top in which you can drag and drop your image from your computer. Your image will then appear in your uploaded images library.
You also drag and drop images from an open folder on your computer directly onto the canvas you are working on. When resizing the image, press the Shift key to maintain your aspect ratio.
2. Select file
You can also choose to upload a file from your computer. By clicking "Browse Images" , a window will pop-up, and you can then select the file from your computer. The image will appear in your uploaded images library. You can keep track of the number of uploads with the tracker.
Note: PRO users can upload up to 1 GB of their own images. Free users can add only 40 MB. Each image should be in JPEG, JPG or PNG format, and should be 20MB or less.
For Team accounts, each user can upload 1 GB of images each.
To delete your uploaded images, just hover the image in the Uploads library and click the X at the top right corner of the image you wish to delete. Note that if you delete an image from your Uploads library, the image will still appear on any canvases to which it was added. However, the image will not appear on the downloaded visual.
Common Questions
How can I delete my uploaded images in bulk?
You can choose the Select all option to delete all your uploads:
You can also select multiple uploads to delete at once:
This action is irreversible. All deleted uploads cannot be recovered.

Why can't my uploaded images show my visuals?
If you upload a personal image to your account and place it on a canvas, the image must always remain stored in the Uploads section of the account.
If it is deleted from Uploads, only a blank space will appear on the canvas during editing and download. To see it on the visual again, you'll need to re-upload the file and then re-insert it on the canvas.