Sharing and Publishing Visuals
There are two ways to publish and share your visual - you can do so from the dashboard, or from the editor.
From your dashboard, click the menu in the top right corner after hovering over your visual. Then, choose Share. (To embed, please access the Share options from the editor.)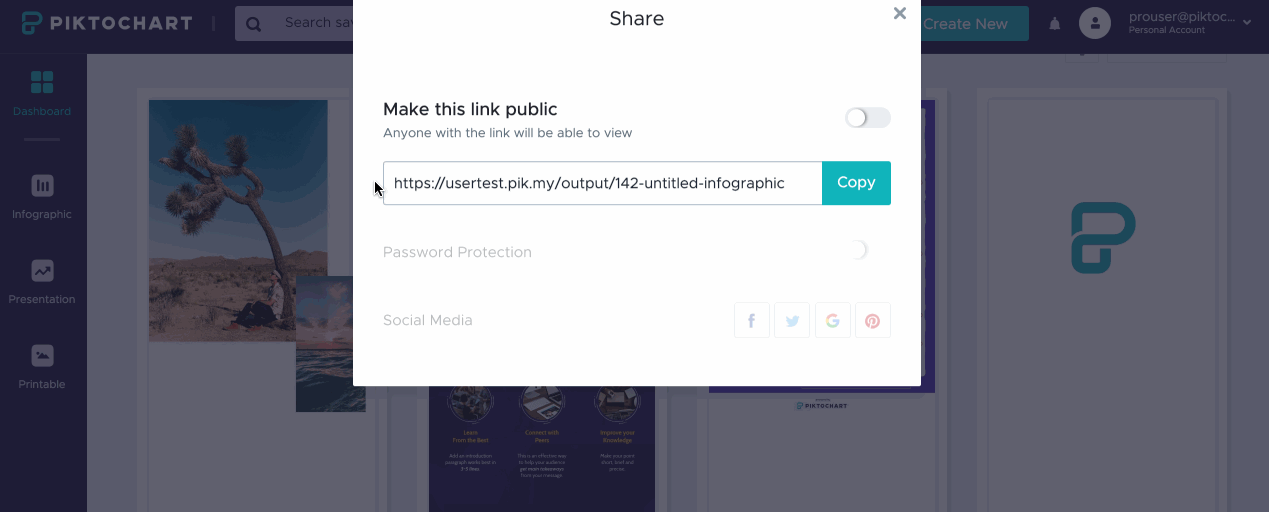 From the editor, after clicking on the Save button, next click Share. Here, you have the option of determining whether to keep the visual private to yourself, or viewable publicly via the output URL.
By default, only you can see your work online now.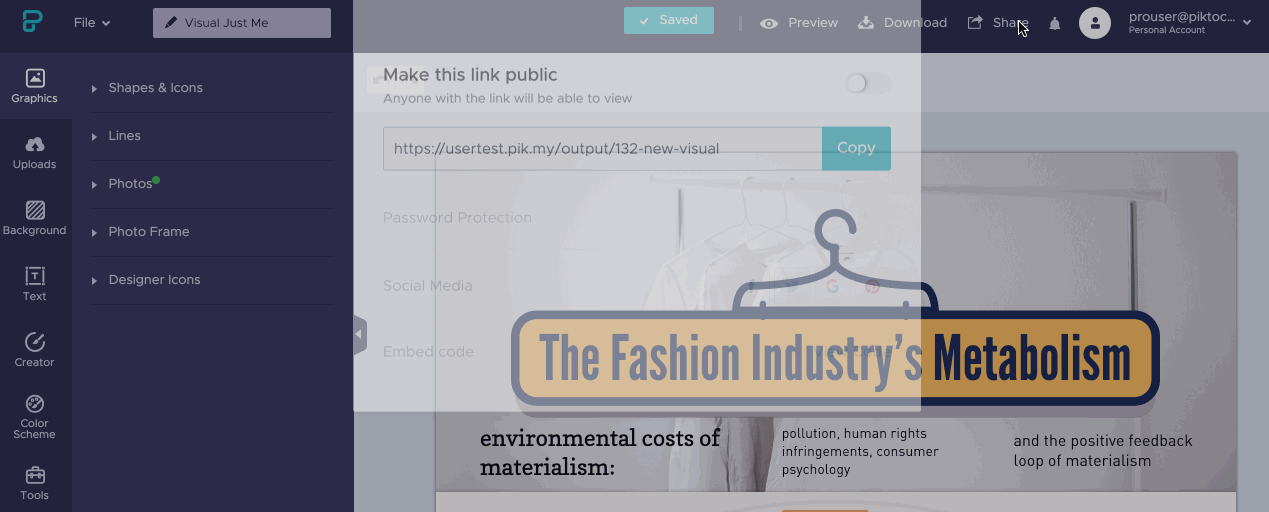 To allow others to see your visual online, use the drop-down menu to select Anyone can view the sharing link. You can then provide that Open On Web URL to your intended viewers. You can also use the Social Media icons to add a link on one of those sites.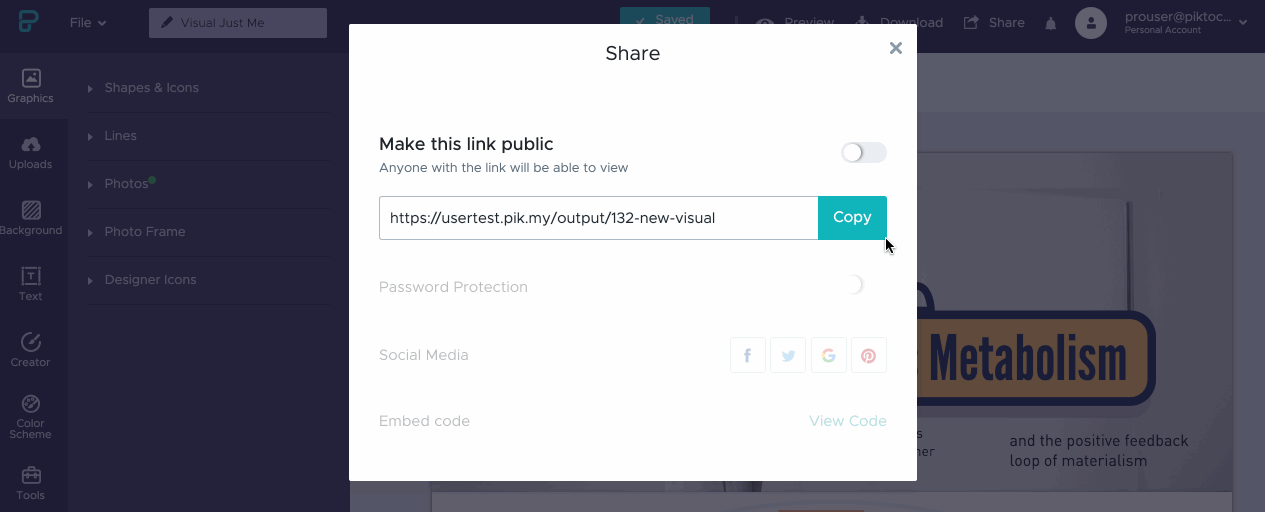 Password Protection
If you are a Piktochart Pro subscriber, you can also limit who can see your visual by adding a password to it. Just be sure to then provide your chosen password to those who'd be viewing your visual.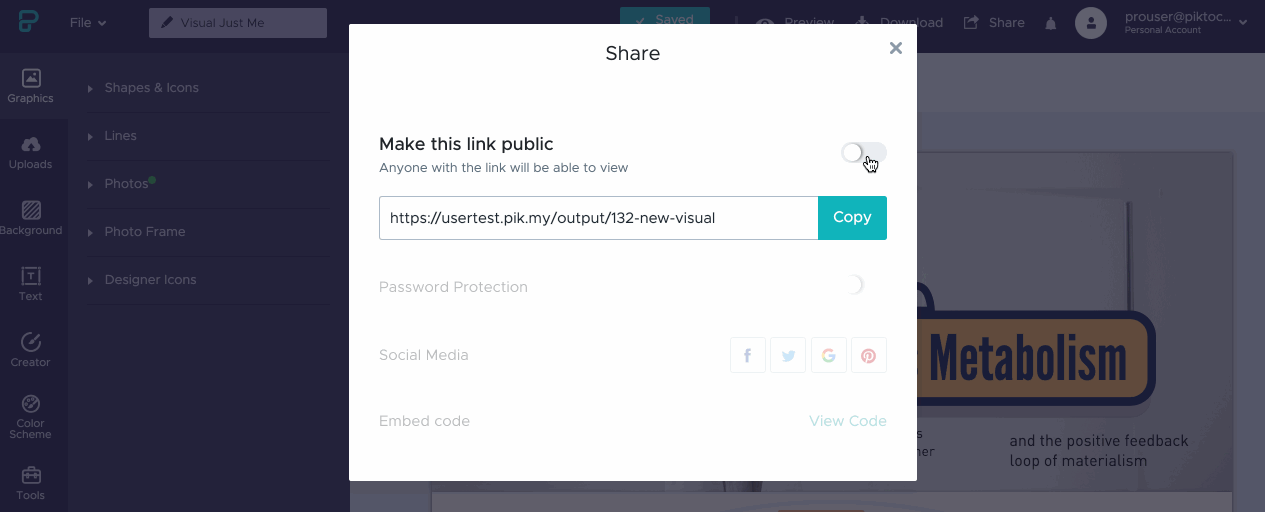 Embed Code
Also, both free and Pro users can generate the HTML code and paste that to a blog or website. Please note you cannot edit the output link once the visual is published.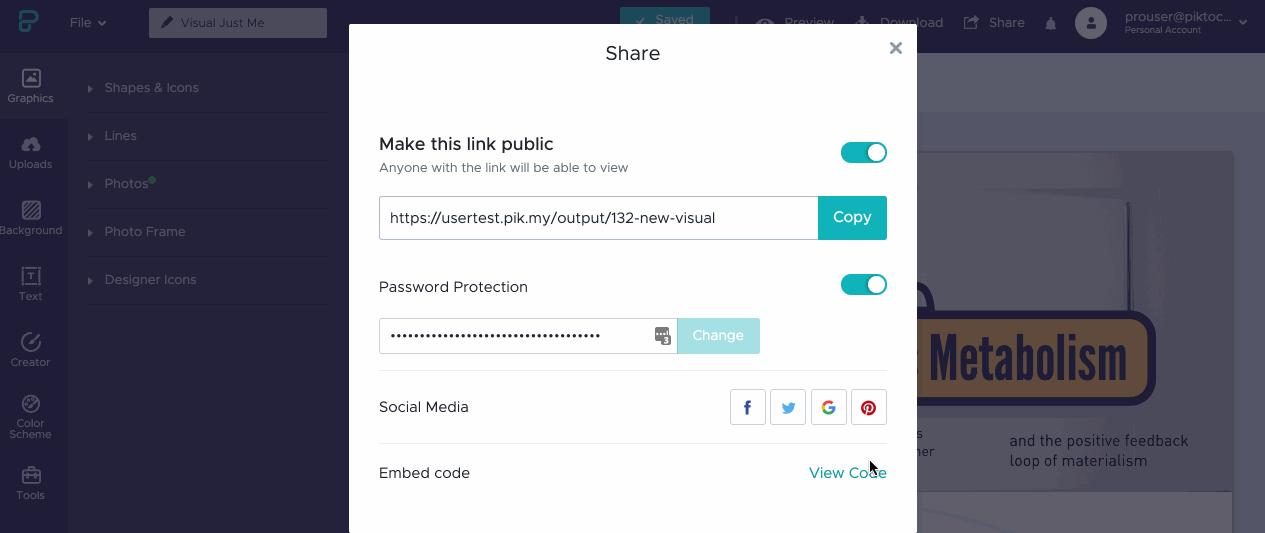 If your web host is Wordpress, we do have special instructions for using the HTML code with that service: Wordpress Instructions
Common Questions
Can I edit the URL of my output link?
The URL cannot be modified from its original version. For a workaround, you can duplicate a copy of the visual and rename the visual title to generate a new URL for the output link.
Can our visuals be shared via the company intranet?
There is no means at present to store visuals for editing at the local level.
Although we comply with the latest security standards and we never access your information ourselves, Piktochart is a cloud-based application. Therefore, your live versions of visuals as viewed on an intranet or on the internet will link to the Piktochart server.
When you select 'Public' when sharing a visual via the output page, everyone who has the URL to your visual can see it. You can use the HTML code to embed your visuals on your website if you want others to view it there.
If you prefer that your visual not be visible to the public, you can alternatively choose to download it as an image or PDF and save it to your computer.
Will my visuals appear in Google Searches?
As a free user, your visuals are no-index and no-follow. Meaning, your results will not appear in any organic search results. If you're a PRO user, your visuals will be searchable on Google searches if you publish to Public. Learn more about SEO optimization.