Sharing visuals from Personal Dashboard to Team Dashboard
You can move visuals from your personal account to your Team account, but visuals on your Team account will remain there (cannot be moved from Team to personal):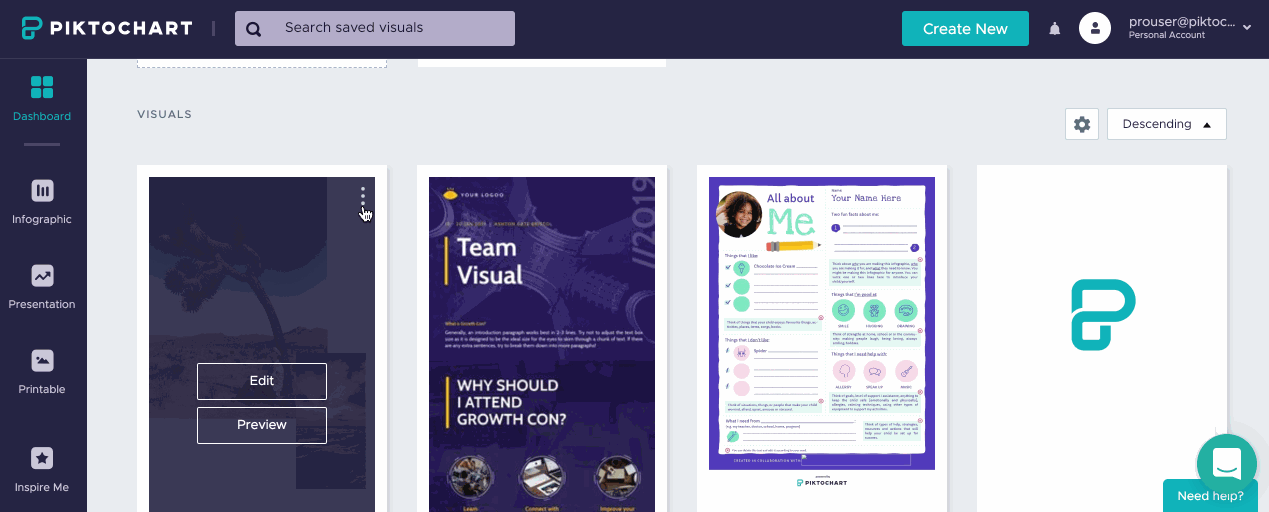 1. From your personal dashboard, you will see the option to 'Copy Visuals to Team'. This allows you to make copies of your personal visuals (up to 15 at a time) available to your team. This action creates a copy of the visual in your team dashboard.
The original visual in your personal dashboard will not be affected in any way. Due to server constraints we are only able to process one request, of up to 15 visuals, at a time. Processing time for each request may take up to several minutes. During this time, any subsequent requests will be rejected.
2. In order for your team members to be able to see it, you would need to change the privacy settings on this new copy. You can do this by:
Going to your Team dashboard
Clicking on the options for the visual you wish to share and choose Share.
Enable Team Sharing for your teammates.
Common Questions
How do I ensure that a member of my pro team can present a visual I recently shared?
You can certainly share a visual with your Team so they can present it using Presentation Mode.
First, you'll need to ensure that the visual you've placed on your Team's dashboard has been shared with your Team and that the Share option for the visual allows others to access it as shown above. Once this is done, any Team member can present the visual simply by clicking on the thumbnail's options on the Dashboard and selecting "Present".
Your team member can enter presentation mode as described here.
What sharing settings options do I have on Team visuals?
If you are the visual owner, you can decide how much access your team members will get. If the visual is not yet in your Team account, copy it from your personal account. Then in the Team account, click on "Share" in the editor or from the thumbnail shortcuts on the dashboard to configure the share settings:
Giving your team members commenting access allows them to view and to contribute via a commenting page, while giving editing access allows them to open up your visual in the editor and make changes:
The same Share modal also allows you to control who gets to access the visual's published Output page. A visual shared in this way will be accessible, view-only, beyond just your team.
Will my Team Members see everything I create?
No, your team members will only see the visuals you choose to share with them.
To check whether a visual is being shared with your team, access the share settings modal (next to the download button in the editor, or else from the thumbnail shortcut on the dashboard), and see that the "Enable Team Sharing" toggle is off.
You'll see a message stating that your visual isn't accesible for your team.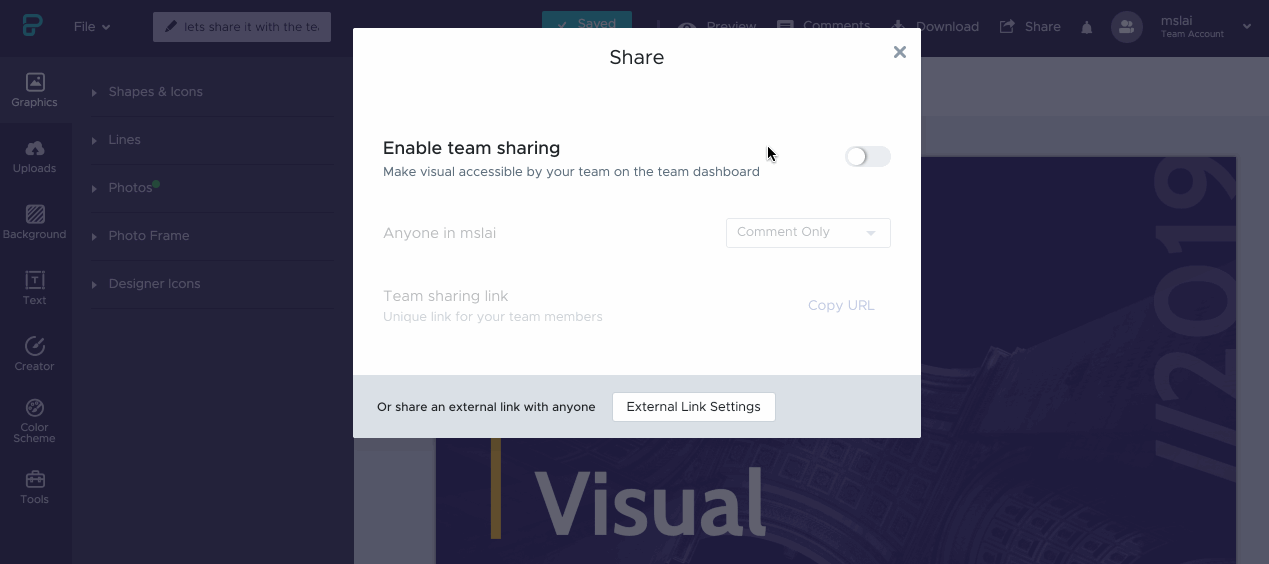 Can I restore my visual to a previous version or undo my team members' changes?
We don't yet support this functionality. To ensure that your team members don't unknowingly make undesired changes to your visual, you could share for commenting access only.