Create a Visual in 5 Steps
With Piktochart's comprehensive interface, tools, and features, you'll be an infographic-making genius in no time!
1
Find the Right Template
When you log into Piktochart, you will first land on the Dashboard page. Then, select the format you want to create from the left side panel of your dashboard.
To help you get started, you can find the template you prefer first. We have made the selection process as easy as possible for you:
Scroll through our pre-designed templates according to their respective formats - Infographic, Presentation, Posters, Reports, and Flyers, Social Media.

If you know the name of the theme you are looking for, you can use the search bar.

You can also filter through themes of similar topics to look for more template options that relate with what you were looking for.
2
Select a Template
You can first Preview the template to make sure of your choice. Once you've decided on your template, click Use Template to load the selected template.
In the Editor, start by making edits to text by double-clicking the text box and insert your content.
3
Insert Graphics
Icons and graphics are ways to help attract attention and simplify text.
There are thousands of icons and images available in our Graphics libraries > Shapes & Icons! Use the search tool and insert keywords to narrow down further what you're looking for. Just click or drag-and-drop the graphics you need from the menu to your canvas.
You can also customize how your graphics look by changing the colors, resizing and rotating them. Our Photoframe allows you to drag and drop your photos into readily-made designs that instantly mask and pair your photos with text - so don't forget to make use of it!
You can also Upload our own photos, icons and graphics using the Uploads tab, just like this: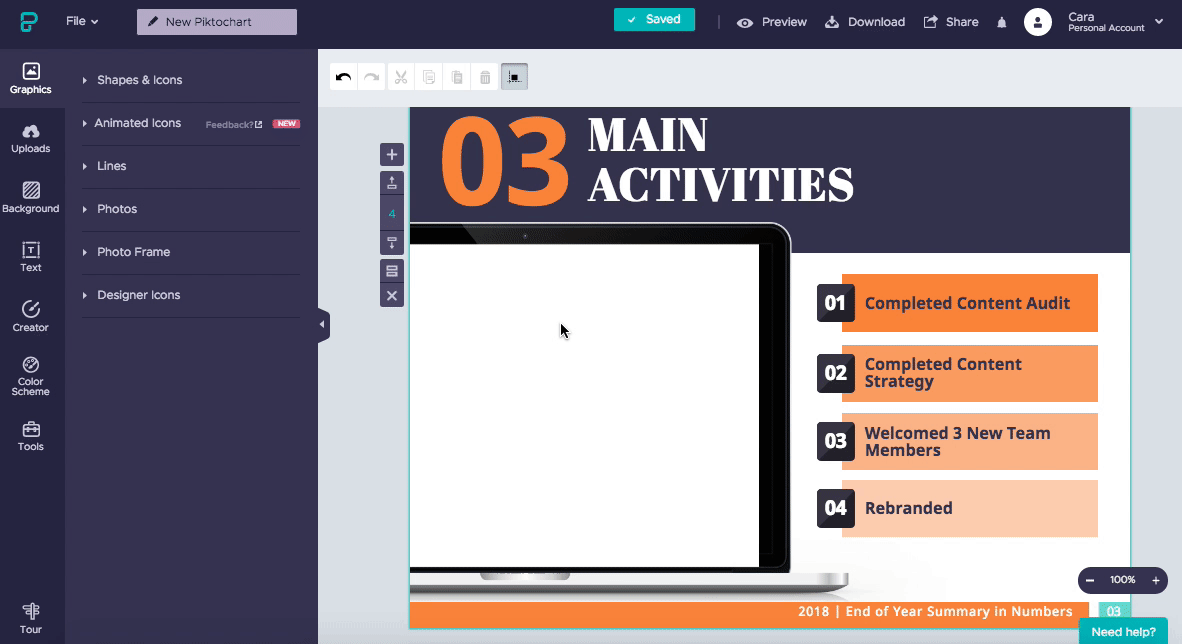 4
Visualize your Data
There are tons of tool options to create charts and maps that can be customized to visualize your data. A popup will appear from which you can choose the best chart style for your data, coupled with a spreadsheet to input your data.
5
Share your Visual
You can download your work as an image, publish it online, share by email, or share your infographic directly on social media. View your infographic on the output page by following the provided URL when you publish to the web for public view. Once you have shared it, you and your audience can enjoy your Piktochart in Presentation Mode.
Common Questions
How do I choose a background?
To modify the background:
1
Click to select a block.
2
Click Background on the left side panel.
3
Select a pattern or texture under Background Image. You can also change the background color (found above the patterns/textures) and decide on a color that complements your content!
You might find the background pattern or texture appears to not show (typically the grey ones under background-image), but please note you must choose a color to activate any of these grey backgrounds so that the pattern shows above the chosen color. You can also adjust the opacity on either the color picker or on the actual background itself in our toolbar.
You can also add your own image as a background.