Inserting Hyperlink
To add a hyperlink:
Select the text box or image that you would like to function as a hyperlink.
Click the link icon on the top tool bar. A pop-up will appear for you to insert the URL.
Click "Ok". To test it, go to the "Preview" option at the upper right menu.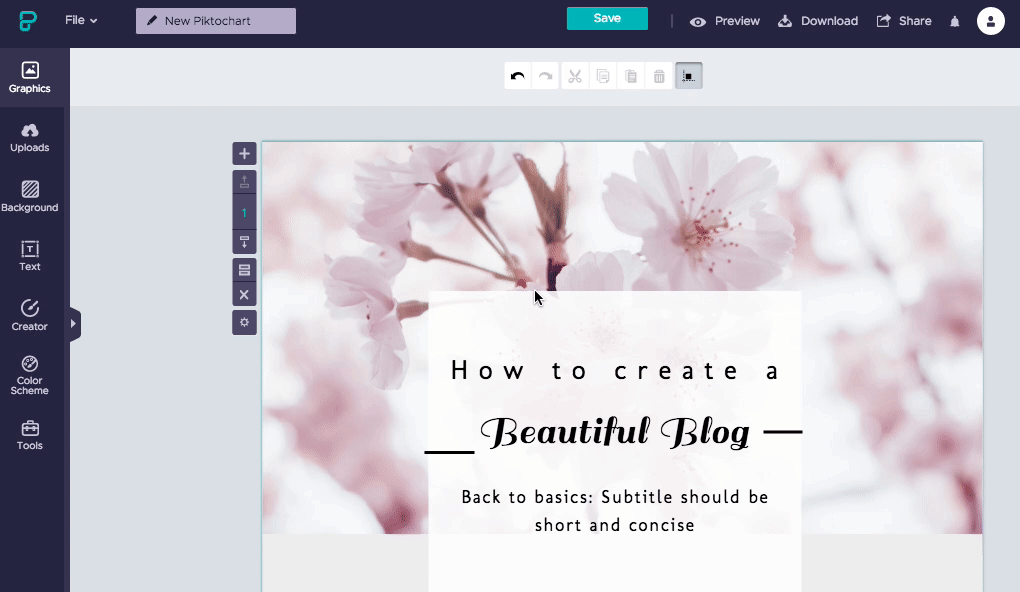 Only external URLs will function; intranet URLs and links will not function. If you want to set up an email link, you can use the "mailto:" command, for example: mailto:

[email protected]

.
The hyperlink symbol in the top left of the hyperlinked text box seen in Editing mode will only appear while in Editing mode to indicate a successful link; it will not appear in any output (embedded or downloaded).
Hyperlinks are active only on PDF file formats (when attached to text boxes only) and when the visual is Published and viewed on URL output. Click here to learn more about publishing and sharing visuals.
Common Question
How do I embed downloadable content?
1. Upload the file to Google Drive.
2. Then, use a shareable link and set that anyone with the link can view.
3. Insert that link as a hyperlink on Piktochart.
When others click on the hyperlink, they will be able to download from Google Drive.