Downloading with a Transparent Background
Transparent Background
You can download your visual with a transparent background by following these steps:
1

Click on Download in the top-right corner of the editor menu.

2

Choose the PNG option for downloading.

3

Select the Transparent Background option in the Download menu.

4

Click Download PNG.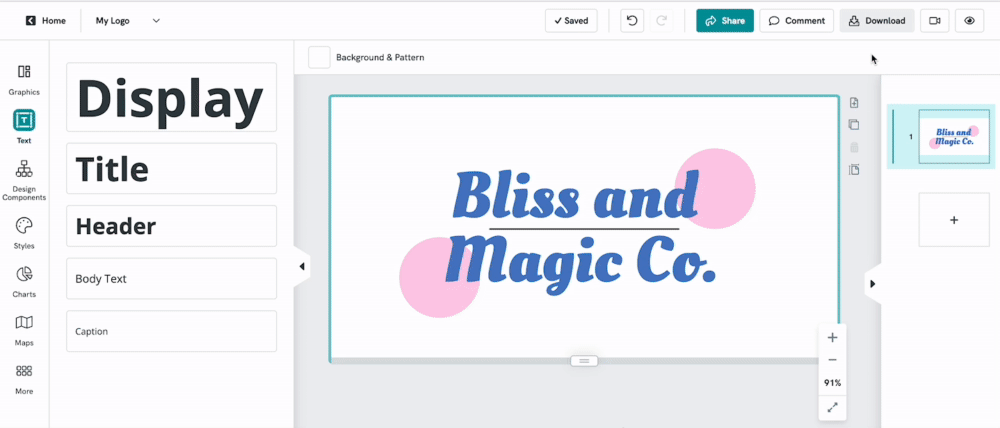 And that's it! You just downloaded your visual with a transparent background to use on your website or wherever you need it, in four simple steps.
Common Questions
Can I download my visual with a transparent background in any download quality?
Yes, you can! You can download it in normal, medium, and high quality. You can also select the Download as Pages option if you need to download more than one page with a transparent background.
Why does my solid-colored background disappear when I have the transparent background option enabled?
Whenever Transparent Background is enabled, it will remove the background entirely, even if solid colors are applied. Patterns will also be removed. This is because the Transparent Background option is meant to enable you to create visuals with clear backgrounds.
Can I remove the background of my uploaded image?
This is not yet possible. The transparent download feature allows your visuals to be downloaded with a transparent background but it will not remove the background of your uploaded graphics or images. In other words, if your uploads contain solid backgrounds, they will still appear in your downloads so it's necessary to create your design in Piktochart to ensure the background can be made transparent.