Sharing Presentation on Powerpoint, Evernote, Slideshare
To share your presentation visual to other applications such as Evernote, Slideshare, and Powerpoint, you will need to:
Download the images of the slides (see below)
Log in to Evernote or Slideshare or open a new powerpoint file, then
Upload each slide.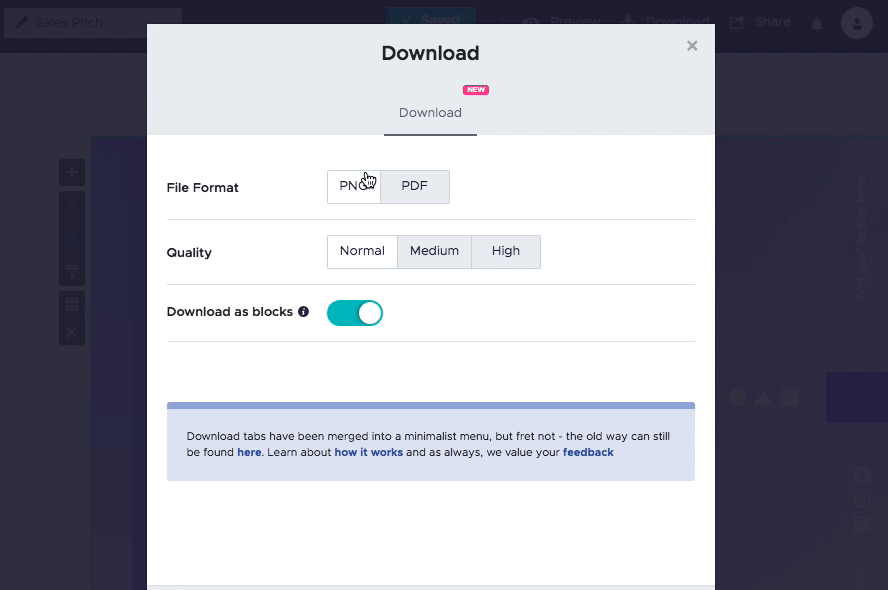 Please note you do have another option to present or display your presentation format visual. You can use our Presentation Mode, which is available once you have saved and published your Piktochart visual.
When you view your visual in a browser using the provided output URL, you will have the option to enter Presentation Mode using the button at the top right. You can also access this Presentation mode if you are offline, by letting it load when your computer is still connected to the internet.
To export your Piktochart visual to Evernote, Slideshare or Powerpoint, it is best to use a Presentation format template so that you'll have presentation blocks or slides. Once your visual is complete, click Download on the right corner of the header menu.
You can download your visual in PNG format as blocks. In the download window, select Download as Blocks and the PNGs of your visual's blocks will be downloaded in a zip file. Open the zip file as a folder, and you'll see your blocks as individual image files. Open a new file in Evernote, Slideshare or Powerpoint and transfer each block/image as 1 slide.